Megan Royce
Megan Royce is a graduating senior in the Design program at Seattle University. She would describe her style as eclectic, drawing inspiration from current flat color product illustration trends, 1970s wallpaper patterns, and pulp horror novel covers. She loves to play with dynamic color, and her favorite magic trick is building realistic illustrations out of flat color shapes. Megan's post-graduation plans include starting her own freelance business and online shop. She hopes to sell stickers, prints, clothing, and more while continuing to work in client branding, her favorite area of commercial design.
Burnout: An Evaluation of Students and Stress
2020
Burnout is an issue plaguing students now more than ever before. In this infographic, I examined the expanse of student burnout, the causes, and what's being done to combat such a pervasive issue. The style is the my modern take on a distressed automobile repair show advertisement, created in the hopes of drawing in audiences of all ages with a combination of nostalgic yet fresh graphics and pops of importance-highlighting red. Because you need to be paying attention to this issue, even if you don't believe it applies to you. Student burnout is a powder keg about to explode and it will take the young, the old, students, teachers, parents, and everyone else to pay attention to the unrealistic expectations placed on young academics in order to stop it.
---
The Cool Kids Aren't That Cool
2019

Most people have experienced the feeling of being the odd man out, of being scared to make friends because you assume everyone else is "cooler than you" just by how they present themselves. "The Cool Kids Aren't That Cool" is a book documenting a social experiment where I examined just how true my initial fear of being ostracized held up once I got to know some of my "cooler" colleagues. Through the juxtaposition of my initial impressions with vivid collages depicting the things I learned about these new friends in our first conversations, I hope to show that everyone has more to them than is on the surface, and you probably have more in common with The Cool Kids than you think.
---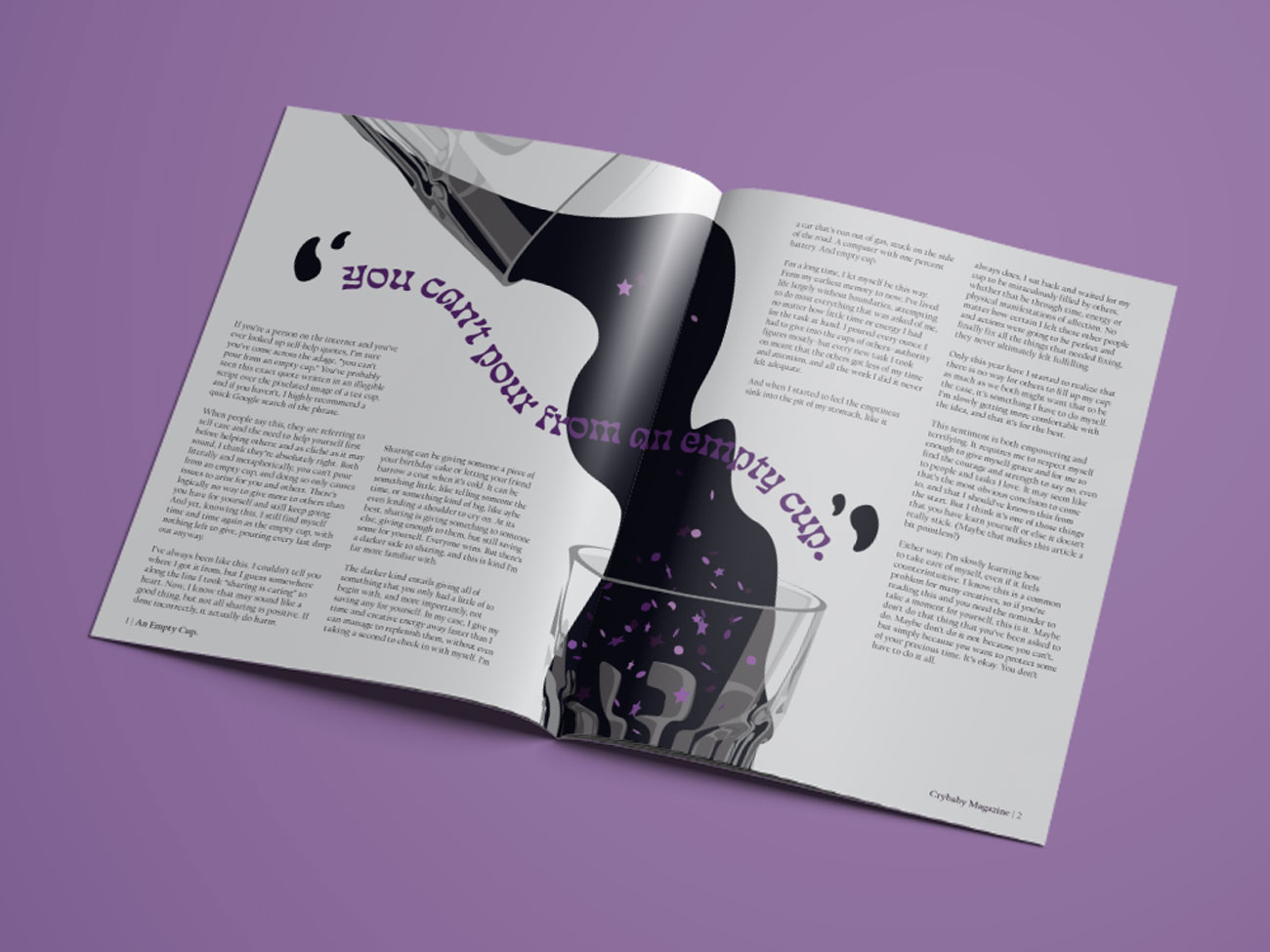 An Empty Cup, Magazine Design
2019

In metaphorical terms, you can't pour from an empty cup. That is to say, if you don't refill your cup with your interests, hobbies, and adequate rest, you won't have anything to give to others. In this magazine spread, I wanted to talk about an issue many creatives in the design field and elsewhere experience: giving too much to everyone but yourself. As this piece is directed towards creatives, I wanted to create a spread that expressed the content not only in words, but in visuals and layout. To do this, I created a literal flow to the piece with the black liquid spilling from one cup to another, which highlights the metaphorical message of the piece using an illustration and organizing the type into columns that, themselves, flow into each other. The purple sparkles represent the creative energy we pour into our projects… forgetting to keep some for ourselves. I hope this reminds you to withhold just a bit of that sparkle for your passions.