Huy Tran
Hi, my name is Huy Tran. I was born in 2000 and raised in Vietnam; however, I have been in the design field since 2016 by moving to Seattle, WA. Throughout my study journey, I have been studied at Seattle Central College, The Art Institute of Seattle, and finally Seattle University. With this time in the world of design, I have built good experience and skill in Graphic Design and Web Design, so I believe the art of design will make our world and life more interesting and colorful.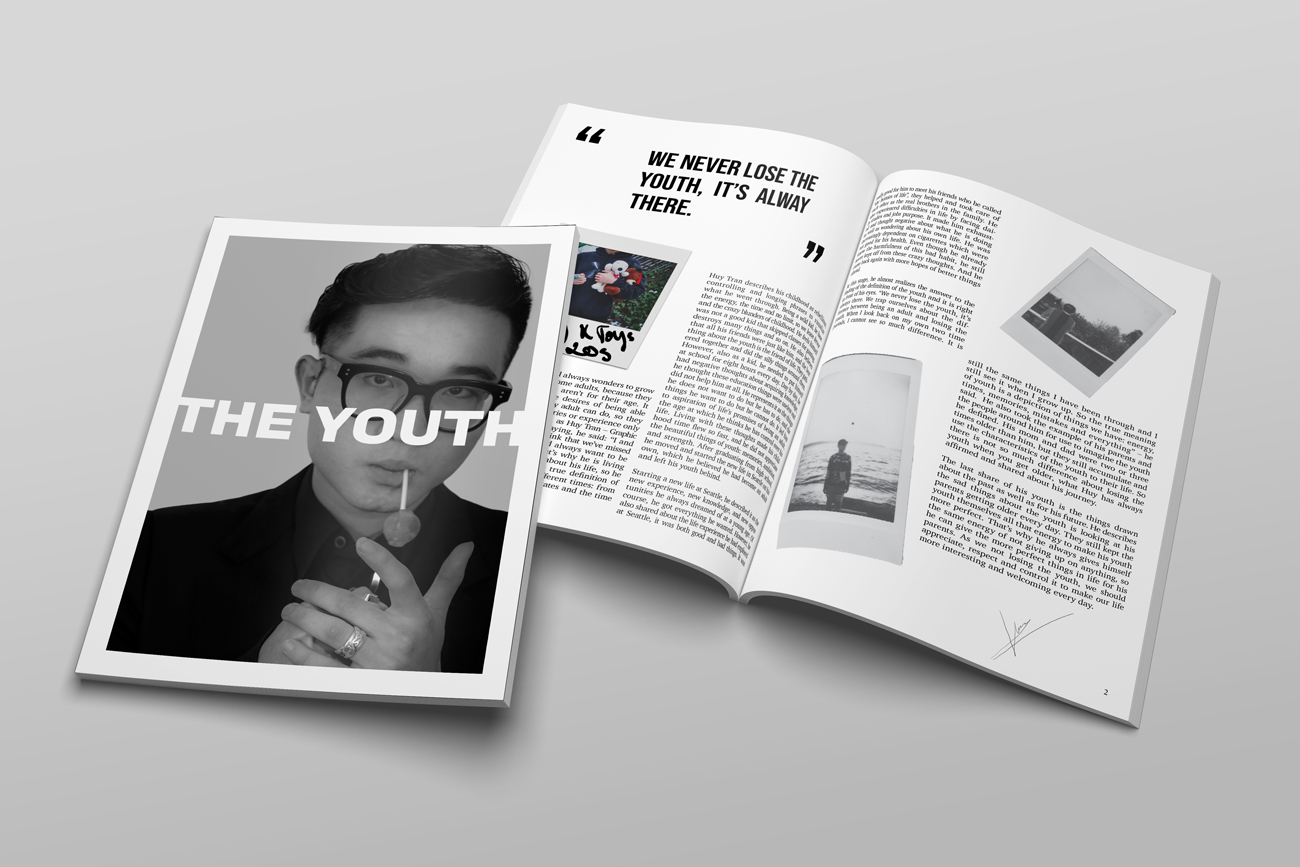 The Youth
2019
The youth are always asking Huy Tran – graphic designer – about his life. An editorial on topic "The Youth" to show the process of finding the meaning of youth. By using the different stages of his life, Huy Tran shares his story to audience with the learning on our youth. "We never lose the youth, it's always there" quotes from the his thought. Huy Tran wants to understand the real meaning of youth to be able to respect and enjoy it fully.
---
Love/Unlove
2020
Love/Unlove is a project captured on Fujifilm Instax mini 9 that follows the process of losing leaf from a rose. The background of the project is about finding love through the movement of a rose. Each frame counts as a love or an unlove to someone; however, the audience can clearly see the rose is still there, so it is a reminder of loving all over again, and again. The package project comes with 11 pictures, 1 poster and 1 box.
---
SARS virus of 2003
2020

This infographic is about the Severe Acute Respiratory Syndrome (SARS) virus outbreak that happened in 2003, which affected thousand people around the world. Nowadays, public health has become more important than anything in human life. SARS is known as the original base of Corona virus (COVID-19) that affected millions people around the world in 2019 and still continues to. By studying about SARS, we can understand basic information such as what is it, how it effects us, and how we can protect against it. The design will let audience from any ages to easy understand and learn more about this virus. From there, people can apply that knowledge to the current situation to prepare for any future outbreaks.